What We Do
The Lodge, The Children's Home and the Foundation
Rhotia Valley Tented Lodge is the result of the willingness of Joris and Marise to manage the orphanage on their own without directly depending on donations. In 2008 they officially opened the doors of the lodge to those who came to visit the beautiful Tanzanian Northern Safari Circuit.
Thanks to tourists, we are able to cover the daily expenses of the orphanage and ensure the basic needs of the children such as:
Comfortable accommodation
Three meals a day
Warm clothes
Blankets, towels and toiletries
School books
The Mamas' wages who take care of the children every day
Chef and kitchen costs
The Lodge is completely embedded in the community of Rhotia in a perspective of sustainability with the aim to support not only the children, but the whole community of Rhotia; so the entire village is part of the project.
For this reason every year we try to achieve some goals in the 4 following development areas: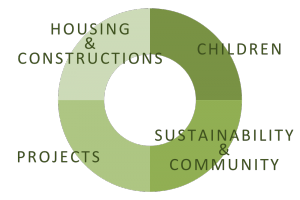 Certain goals are part of larger projects which require huge investments, specific knowledge and extra help from volunteers.
This is one of the reasons why, behind the Tented Lodge and the Children's Home, exists the Rhotia Valley Foundation. (The Foundation is based in the Netherlands and it is composed by four board members:
Philip Houben, Chairman
Wopke Van Rijn, Treasurer
Inneke De Geer, Secretary
Thea de Heer, Board Member
Aaggie Van Heekeren, Board Member
The board members raise the donations and they supervise the Children's Home cash flow and activities.
All new ideas and investments are always discussed with the Board Members.
Once a year a site inspection is held in order to collect information to support the funding plan of the Rhotia Valley Foundation. We believe that inspections are also a wise way to give an independent view of the overall project either for the foundation or donors.
Thanks to the new website we can now share our milestones and the results of your cooperation!